The Piteco Group
The Piteco Group is the result of the acquisitions that Piteco has made over the years, which have enabled it to achieve levels of excellence, recognisability and a widespread presence in the Treasury & Finance, Financial Risks and Payments markets. Research and development, design and creation, sale and implementation, support and evolution: the Group covers the entire software development and implementation chain for the Industry, Finance and Banking markets in the AFC area.
The Piteco Group has 4 operating offices in Italy – Milan, Padua, Turin, Rome and 160 highly qualified professionals.


Piteco S.r.l.
Piteco is the leader in Italy in the design and implementation of treasury and financial planning management solutions.
It opened its doors in 1980. Since that time, industrial companies across every business sector have recognised the quality of Piteco's solutions and the value of its services, leading them to choose Piteco again and again.
Piteco guarantees top-notch performance and excellent service levels to 5,000 companies all over the world. Piteco is listed on the MTA market managed by the Italian Stock Exchange.

Myrios
In July 2018, Piteco acquired Myrios, a company active in the design and implementation of high value added IT solutions dedicated to the finance departments of banks, insurance companies, industry and the public administration. The Piteco suite of products is complemented by Myrios Financial Modelling, the IT platform for the management of Corporate Financial Risk Management, and Myrios Investment, the advanced and modellable post-trading investment and derivative management application platform.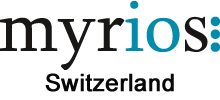 Myrios Switzerland
Myrios Switzerland was founded in Geneva in February 2019, positioning Piteco in a strategic area in the European corporate market. Piteco can now cover the needs of the sophisticated and high profile market of major holding companies based in Switzerland.
The Deda Group
Piteco is part of Deda Group (turnover of €253 million, 1,800 employees and more than 3,600 clients), an important aggregating hub of leading Italian firms in the Software and Solutions as a Service market, and a natural reference of businesses, financial and public service institutions in the development of their IT and digital strategies. Founded in 2000, with headquarters in Trento, the Group has grown consistently and today, in addition to having more than 20 offices in Italy, it also operates in Switzerland, France, Germany, UK, USA, Mexico and China.  Deda Group is a subsidiary of Lillo Spa, the business Group founded by the Podini family, already operating in mass market retail with its MD supermarkets.