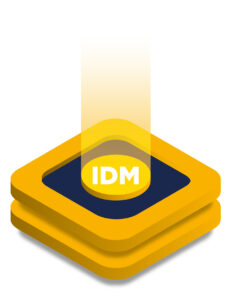 IDM is Piteco's lntelligent Data Matching platform for analysis, validation and automatic reconciliation of complex and heterogeneous data. IDM finds application in every industry, business area and department sector where large amount of unstructured data must be matched.
Semantica Data Analysis
IDM is placed between 2 or more conferring systems. Its role is to receive information, recognize, examine and make it homogenous through activities of sophisticated Semantic Data Analysis, transformation and normalization procedures performed on the disordered sections. Appropriate Application of logics and functions enable implementation of regular expression, due which the Semantic Data Analysis starts right from the initial phase, data download from different systems sources.
Machine Learning
The innovative IDM's Semantic Data Analysis enable the further application of Machine Learning algorithms and parametric reconciliation logics which allow high-performing automation of the reconciliation routine. Piteco collects stimulations offered by the technology at the root of the new machine learning paradigms, embeds them directly in the functions of cash collection processes management – even in the unstructured payments – reduces the doubtful cases for which human intervention is required.
Data Matching
Piteco IDM platform supports enterprises in management of big billing and collection volumes by means of collections and receivables matching automation, considerable reduction of low added value manual activities, ensuring up to 95% of automatic matching.
Usability
The environment is optimized for assisted transaction matching, thus making the exception handling efficient and user-friendly. IDM is appropriate for any technological environment and any company dimension.
Ottimizzazione
The use of IDM platform shows a significant learning curve whereby the system improves its match rate as time increases, ensuring tangible management efficiency.
IDM makes it possible to accomplish the following goals:
Operating costs reduction
Quality improvement of controls
Flexibility and more rational use of resources
Action traceability increase
Document integrated system with access to all documents linked to transactions, in any context. There is no need to use other applications.
IDM's Intelligent Data Matching features stand out for their ability to support diverse data reconciliation process in any industry, sector and business area, and to have excellent outcomes and replicable best practices suitable for environments managing large amounts of unstructured data.
Some business where Piteco solutions are considered reference standard:
FMCG and mass-market retailers
For food industry and mass-market retailers, IDM matches cumulative payment mandates and related credit transfers. The details get balanced with invoices and credit notes, allowing the immediate identification of conditions referred to down payments, allowances and discounts. The process is designed to support periodic workloads and is pointed to automatic accounting of the total collection.
FINANCE
For banking and non-banking financial services, IDM improves the reconciliation of installments for consumer credit, salary deducted loans, lease and factoring contracts. IDM supports SGR and SIM in matching of securities, bonds, deposits and forex transactions between front-end and back-end systems.
INSURANCE
For insurance companies, IDM automates the recording of collection communications and broker's accounting statements. At the group level, the platform supports collection accounting for direct and online issued policies and their automatic integration into administration management system.
UTILITIES
IDM is enriched by a long list of best practices in Energy, Gas and Water services and by specific functions for Utilities, able to automatically match collections, connection bills, payment schedules and collection notices etc. Companies of this sector share a common business model but are different in terms of organization, customer composition and often use diverse multiple billing systems. This is where IDM presents its full potential by being a bonding element, hub and collection processes optimizer, capable of managing all types of customer collections, including the new online collection methods.
E-COMMERCE
For e-Commerce, IDM reconciliates front/back-end data and on-line orders, with various forms of collection and shortens the registration time in order-to-cash process. In this scenario, balancing credit card reporting is of particular importance, a process that involves various providers with property standards.