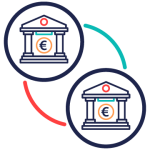 Piteco manages every Treasury centralisation project incrementally, defining control and consolidation strategies and the technical methods for bank centralisation in keeping with the centralisation strategies of international Groups.
Piteco offers functions to consolidate positions relating to the current accounts of every company, providing real-time Group Cash Flow visibility. Each individual current account can be consolidated in different currencies: of the current account, of the country, of the accounting holding company or in another consolidation or reporting currency.  Full visibility of the bank balances of every company is a minimum requirement for Group Cash Flow harmonisation.
Piteco enables the management of every technical form used by the national and international banking system: Cash Pooling, Zero Balance, Target Balance, Payments in the name and on behalf of others (POBO) and Collections in the name and on behalf of others (ROBO and COBO) and technical forms in line with the specific Treasury organisation, Regional Treasury Centre RTC, Shared Service Centre. Complex scenarios are managed with hierarchical centralisation models and continental or geographical area sub-holdings. Each type includes complete multi-company accounting of the bank, capital and intercompany accounts of every company involved in the centralisation model deployed.
Piteco's dedicated dashboard can be used to activate upload routines for the reporting of every Group current account, updating the relative balances in real time.
Centralisation Strategies:
models
A range of approaches may be used to achieve global control over the current accounts of every Group company: from merely acquiring bank reporting to check the liquidity position of each Group account, to the complete management of more advanced technical forms, managing global Cash Flow forecasts and complete accounting on intercompany accounts and balance sheets, to the management of the Group's financial expenses and income.
One of the distinctive features of Piteco solutions is their seamless integration with outside IT systems, allowing for simultaneous accounting with different ERP systems, so that centralisation models can be created independent of the accounting systems involved.
Collection and payment forecasts from the subsidiaries, valued using provisional, preliminary or estimated movements, generate a global Group Cash Flow Forecast for holding companies, providing details on currency exposure, expected intercompany account movements and intercompany financial expenses and income.
Piteco's single, shared centralised platform which harmonises rules relating to the preparation of multi-company financial plans provides specific information about outlook financial phenomena, helping to make the subsidiaries more accountable with respect to the data provided.
Payment Factory & Netting
Piteco manages every Payment Factory structure with any form of centralisation from the accounting and organisational perspective.
Piteco applies the highest security standards to manage multi-currency, multi-project and multi-company payments in full compliance with the Segregation of Duties (SoD), guaranteeing full accounting for every payment to each party involved.
Intercompany Netting is fully integrated with the accounting systems of the companies involved, using a dedicated dashboard in which a specific approval workflow can be managed for intercompany payables and/or receivables.
Piteco is integrated with the main national and international market info and messaging providers (BLOOMBERG, REUTERS, SWIFT, SIA, PAYPAL) and has developed and standardised hundreds of international bank standards to enable the rapid launch of banking, organisational and accounting centralisation projects.
When hundreds of users from different companies across many countries simultaneously access the same Treasury tool, issues relating to access security, along with performance, take centre stage. Specific user profiling, access control, Segregation of Duties, Audit Logs, Privacy, authentication procedures and Active Directory/LDAP are just some of the aspects that Piteco pays the utmost attention to when implementing its products, alongside architecture optimisation to guarantee performance excellence.