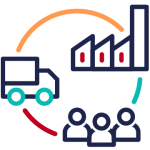 To use a reliable Treasury solution rich in specific features – enlarged by full management of Letters of Credit functionalities – represents an advantage in monitoring and controlling of every single step related to financial, administrative and accounting processes typical for internationalization projects of import/export businesses.  
Letters of credit module with Piteco offer a set of functionalities dedicated to a prompt supervision of the effects the LC's management have on Treasury; for example, absorption impacts on Credit Institutions' credit lines for Import LCs, calculation of commissions and generation of payment collection forecasts.
Supply Chain Finance solutions
Piteco monitors the operational workflow and manages the financial effects that impact also activities of the complete Supply Chain Finance through functions dedicated to Reverse Factoring, Advance Against Order & Factoring, Dynamic Discounting and virtual credit cards solutions.
"A tool totally governed by the Treasury team, innovative and secure thanks to the authorization workflows and the excellent integration of the platform".
Andrea Pennica, Head of Corporate Finance Liu Jo.