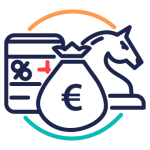 Piteco solutions support Treasury & Finance Directorates of Corporate Bodies disposing new solutions dedicated to finalization of reliable and high value added Cash, Financial and Capital Planning processes
The latest version of Piteco EVO 5 supports the creation of short-, medium- and long-term planning and acts as a collector and normalizer of all available prospective and final information, to simulate scenarios and projections aimed at an accurate assessment of the present and prospective financial situation, Integrating Operational Planning – linked to Treasury management and short-term planning – with Medium- and Long-term Strategic Financial and Capital Planning.
Direct and Indirect Cash Flow Forecast & Cash Flow Actual
The new suite makes it possible to integrate the results and forecasts – present in Piteco or third-party applications – with the economic and balance trial sheet data in order to obtain final and estimated Cash Flow with direct or indirect method, position Net financial position, actual availability situation and the analysis of deviations from forecast data, Budget, Forecast and Revised Budget
Multidimensional Cash Flow: data representation
PITECO EVO 5 allows to manage the analytical data on different levels of aggregation, supporting multiple repositioning matrices, to obtain dynamically the different dimensions of data analysis, to obtain analytical evaluations and customized reports, specific needs of a Planning process
The integration of economic and capital information in short, medium, and long-term planning process, together with the high automation of processes and the deep integration between the information systems, allow planning simulations and scenarios, and represent information through customizable dashboards and reports over certain time horizon of analysis.
We chose Piteco as a partner for our Financial Planning project since our expectations were fully understood right from the start: to use an advanced tool that goes beyond the results obtained through the classic Cash Flow Forecast and Financial Position functions overall, on a 6-month horizon rolling.

The objectives? On the one hand, being able to manage the information deriving from the typical accounting applications and ERPs governing the order portfolio, assets and liabilities. On the other hand, allowing us to draw up Cash Planning scenarios with a multi-year time horizon.

 

Enrico Fila Robattino, General Manager Finance, IT & HR HERNO
Short-term Financial Programs
PITECO EVO 5 can capture granular ERP data for schedules, invoices and orders and generate simulations from repositioning actual credit and debit maturities, redetermining Cash Flow of receipts and payments – for customer and supplier clusters, as well as business and contract sectors – in order to define the Cash Flow forecast in the short-term supporting what if actions.
Artificial Intelligence applied to Financial Planning: it's already live in Piteco!
The Planning Suite allows to operate in forward looking mode to complete coverage of what is required by the rules on the Business Crisis Act. It uses a financial-control model to detect in advance potential financial tensions and plan corrective actions to restore economic-financial rebalancing in time.
It also allows the calculation of the DSCR index.