"Fast Build": an approach to implement Group Treasury & Cash Pooling processes in Greenfiled to Garofalo Health Care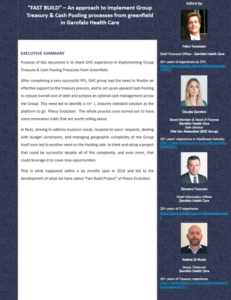 28 maggio 2020
After completing a very successful IPO, Garofalo Health Care group had the need to finalize an effective support to the Treasury process, and to set up an upward Cash Pooling to reduce overall cost of debt and achieve an optimal Cash Management across  the Group.
This need led to identify a a tier 1 industry standard solution as the platform to go: Piteco Evolution.
That is what happened within a six months span in 2019 and led to the development of what we have called "Fast Build Project" of Piteco Evolution.
Read the complete paper: Treasury Fast Build Project
Garofalo Health Care S.p.A. è un gruppo leader in Italia nel settore della sanità privata accreditata e l'unica società italiana quotata in MTA nel settore dell'Health Care.
GHC opera attraverso 24 strutture di eccellenza, situate in 7 regioni del Nord e Centro Italia – Piemonte, Veneto, Liguria, Emilia Romagna, Toscana, Lazio e Friuli – offrendo un'ampia gamma di servizi in tutti i comparti del settore ospedaliero, territoriale e socio-assistenziale. Dalla chirurgia di altissima complessità a quella di media e bassa complessità, alla chirurgia e medicina d'urgenza, alla cardiologia clinica ed interventistica, alla riabilitazione motoria, neurologica, cardiologica e nutrizionale, alle RSA estensive ed intensive ai comi in stato vegetativo persistente, alla psichiatria ed ai centri diagnostici.