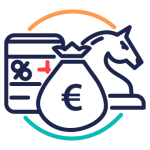 Piteco solutions support Corporate Treasury & Finance departments by providing functions dedicated to the optimisation and finalisation of a reliable, complete and credible high value-added Financial Planning process. The Economic-Financial Planning tool transforms accounting, economic and non-accounting data into financial data, generating scenario simulations and projections that can be used to assess the current and outlook financial position.
The objectives of
Piteco Financial Planning
Piteco meets short, medium and long-term Financial Planning needs and acts as a collector, facilitator and standardiser of all preliminary and actual information relating to cash flow generation. The Suite integrates actual and preliminary data – created by Piteco or from third-party applications – making it possible to obtain the actual and preliminary Cash Flow, the Net Financial Position, the situation of available funds and deviations from forecast data, the Budget, the Forecast and the Revised Budget.
A high degree of process automation, deep integration with source IT systems, visibility and the navigability of the information managed allow Piteco to obtain Financial Planning simulations and scenarios and present information through easy-to-use dashboards and reports, projected over the analysis time horizon set by the user.
Data presentations: the multi-dimensional Cash Flow
Piteco makes it possible to enhance financial data by aggregating and de-aggregating them on various levels and with different repositioning matrixes so as to dynamically manage the various dimensions of data analysis, obtaining analytical assessments and customised reports, a typical need within Financial Planning processes.
Integration with input systems and sources
Piteco guarantees deep integration with the relevant input sources, enabling the rapid transfer to the Treasury of all significant aspects for the generation of financial forecasts. Piteco guarantees that every step taken by the data can be retraced: from information coming from multiple sources to the forecast generated, thanks to the capacity to observe the forecasts generated and the analysis of the determining factors in relation to each other.
Short-term Financial Planning and Scheduling
Piteco is capable of obtaining granular data from ERP systems relating to bill books and orders and generating receivable and payable repositioning simulations, considering deferments relating to collections and payments by customer and supplier cluster, business sector and project, in order to determine the outlook Cash Flow over a short-term time horizon.

"The trait shared by every sector is that aside from the possibility of organising their financial planning, businesses seek to manage and control the process, in terms of automation, speeding up data processing, security, traceability and dematerialisation."
Paolo Virenti, CEO Piteco